This Student Spotlight was published by the Tufts Financial Network (TFN)
Spotlight on … Julia Karcher, A23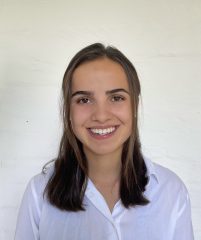 Julia Karcher, A23, arrived at Tufts in the summer of 2019 seeking an American academic experience that built upon her years in secondary school and valued the liberal arts, without feeling too detached from her European home. Julia was born and raised by German parents in a bilingual household in London, England. Years later, her family moved to Frankfurt, Germany, and she enrolled in the Frankfurt International School.
Now a rising senior, Julia is double majoring in economics and international relations. As a student, she has participated in the Tufts Financial Group and its Analyst Training Program. She has also served as the ESG Investing Lead Analyst of the Tufts Trading Fund. In addition to her academic activities, Julia is a member of the European Student Association and the varsity sailing team. Eager to travel, she also spent two semesters studying abroad at the University of St. Gallen in Switzerland and the UCL School of Management in London.
Julia recently returned to Morgan Stanley for her second summer as a Global Capital Market Analyst intern. In between her hard work and travels, TFN caught up with Julia to learn about her time at Tufts, her career pursuits in financial services, and how her internship experiences are shaping her future.
Q:  When did you know you wanted to study finance?
A: I arrived at Tufts knowing I was interested in finance, so I decided to study economics. I also knew I did not want to study only economics because growing up in an international school made me interested in international politics and relations. When I began my studies, I realized those two interests merged into macroeconomics. Studying both is the perfect combination of understanding micro-corporate financial elements and how macro-economic and political events influence them. It was not like: "A-ha, I want to do finance!" but "Oh, I don't have to do just finance, and I can combine my interests in an interdisciplinary way."
Q:  What courses or experiences at Tufts have been most meaningful to your academic and professional development?
A:  Before COVID, I took Introduction to Finance with Professor Christopher Manos. This experience shaped me a lot because it was quite challenging, and the class was largely male students in their junior or senior years.
As a first-year student, I had such imposter syndrome the first few weeks. Whenever the professor asked a question, I thought I knew the answer but was scared to raise my hand. Professor Manos encouraged me to participate more. When the course transitioned to Zoom, I gained more confidence and started contributing more often. I may not have been the best student in the class, but I learned so much and the professor was great.
Q: Tell us about your internships over the years. How have they prepared you for your role this summer?
A: I started exploring my interest in finance during high school, which included a memorable two-week shadowing experience on the trading floor at RBC. Spending time on the trading floor sparked my interest in sales and trading and global capital markets.
At college, my first proper internship was during COVID at KFW, a German development bank. As a member of the bond issuance team, I learned about capital markets and how they work. It was so interesting because we were the clients talking to the bankers (even Morgan Stanley bankers), and I saw the meaningful and large transactions we were doing, especially during COVID. After this experience, I knew I wanted to continue this work from the banking angle, and I was so excited when I landed the Morgan Stanley internship in New York in debt capital markets the summer of my junior year.
This summer, I am doing another internship at Morgan Stanley, but this time in London. This is particularly meaningful because I wanted to return to Europe to be closer to my culture, family, and friends. My group allocation is leveraged acquisition finance, which changes my exposure from the largely investment grade corporate world to leveraged finance.
Q:  Have you had any mentors at Tufts (faculty or alumni)?
A: My most important mentors have been Tufts alumni, especially Michaela Beck, A17; Justin Will, A18; and Ben Levine, A08, at Morgan Stanley. They were so helpful to me during recruiting, providing advice and sharing their experiences. Through networking and their help, I realized the role that personality and genuine character play in the interviewing process. If you are a robot and only talk about your finance courses and clubs, these companies can hire anyone.
Q: What are you looking forward to most for your senior year?
A:  I am incredibly excited to return to campus this fall. I am currently finishing my requirements and then have decided not to take any more finance-related courses. I have done a lot of learning on the job, and I want to take courses Tufts is known for and do things I might never get to do again. I am also taking tennis! I want to do things that are outside of my comfort zone and have fun.